Tattoos speak a language that brings out your personality. Your thoughts come alive on your skin and your fearless attitude does have to be not worded, it can be visually represented. At first thought, a skull tattoo could sound a bit morbid for some and cool for others. You can get creative with skull tattoos by incorporating other symbols, abstract deigns, and experiment with colors to make it distinctive and personal. Skull tattoos have become very popular now. The skull tattoo comes with a general acceptance that its meaning could be interchangeable and mean something good or bad. If you live life by your own rules go for a skull tattoo and add more spunk to your daring personality.
Flowery Pirate Tattoo
Break the rules and get an unconventional tattoo of a flowery skull and crossbones. Contrasting characters, colorful designs and soft patterns eye catching and unexpected. It is a fantastic way to fuse masculine and feminine images together.
The Love Pirate Tattoo
The skull and crossbones have always been synonymous with pirates and danger throughout the ages. This wrist tattoo with red hearts for eyes celebrates the exhilaration and uncertainty of love.
Tattooed Remembrance
A tattoo is a good way to remember a loved one who has passed away. Memorializing it with a skull and roses is a cool and macho way of doing it! The flowing font, the various shades of black and grey make it a cool tattoo.

Funky Skull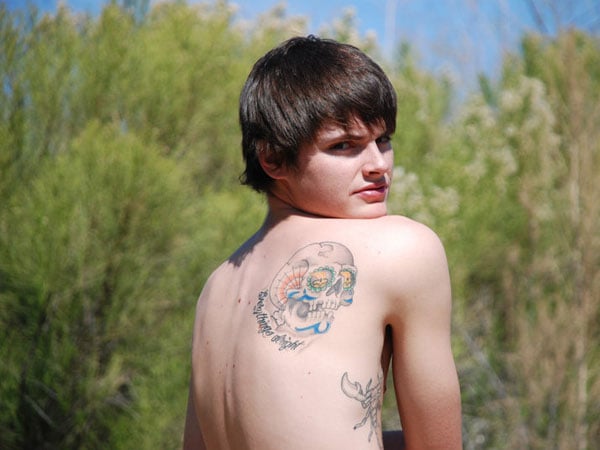 Go topless in the summer and show off your ink with a colorful funky skull tattoo.
Tribal Skull Tattoo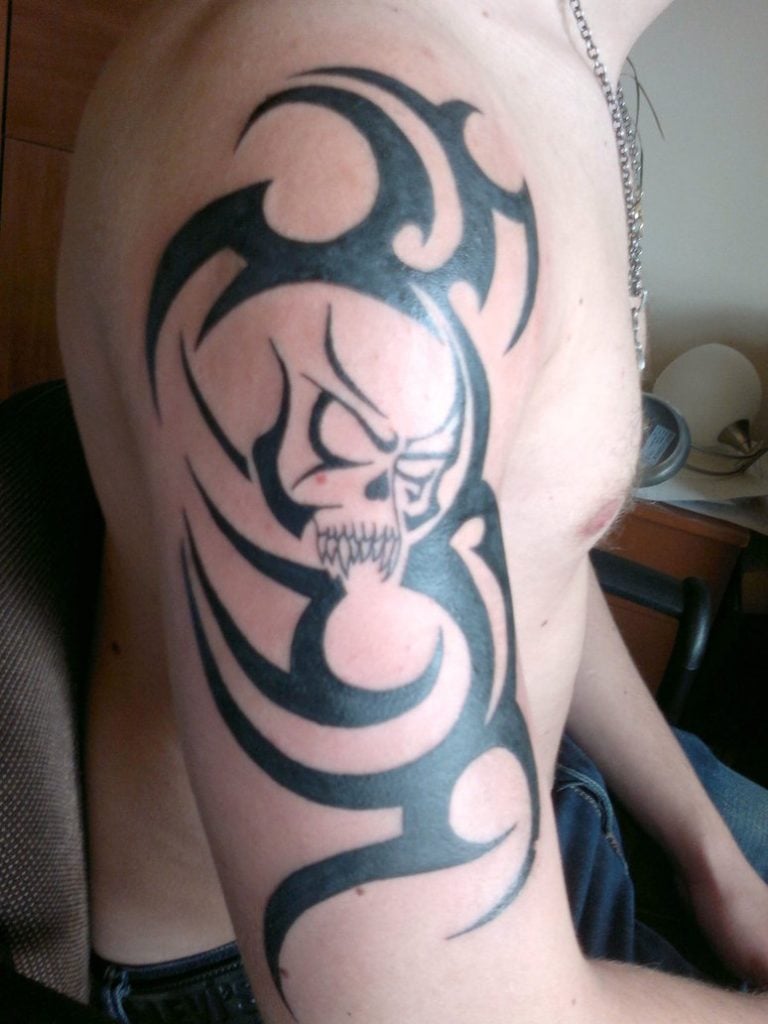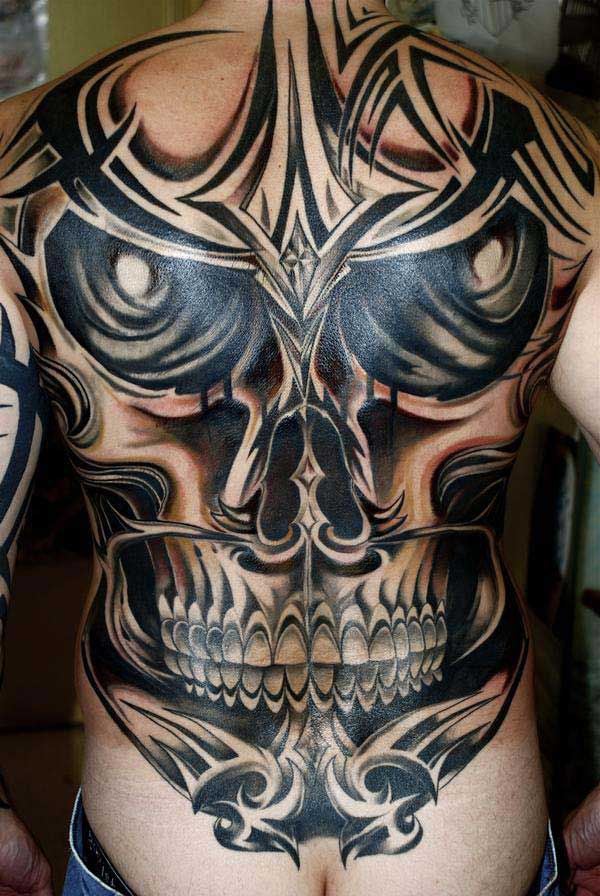 A skull tattoo is always cool, add a bit of tribal art to it and it becomes awesome. Experiment with tribal design the next time you get a skull tattoo.
Deadly Skull
Celebrate the pirate in you with a deadly black skull and crossbones tattoo.
Blaze of Glory Tattoo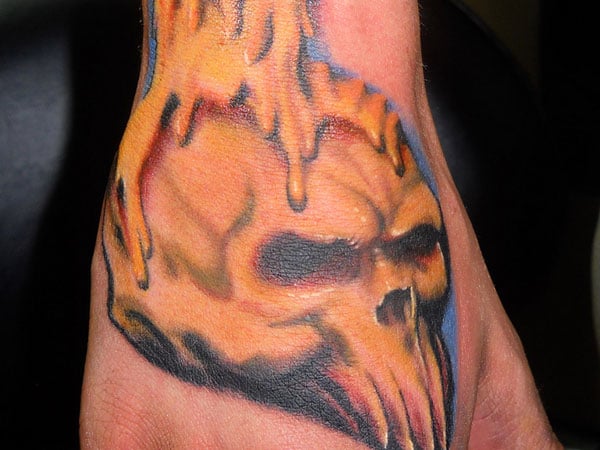 Get creative with a blazing fire skull tattoo. Wildfire merged with a skull is sure to attract lot of attention. This is a perfect tattoo for the petrol heads out there!
Grateful Dead Skull Tattoo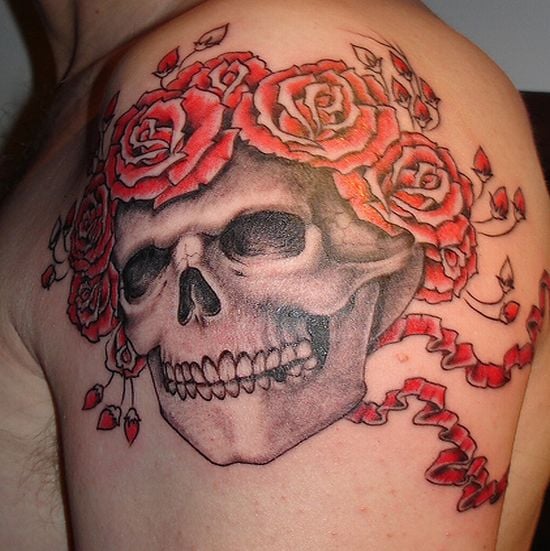 This tattoo takes skull tattoos to another level with inspiration from the Grateful Dead and comic books of yesteryear. The ink in this tattoo breathes life into the skin with a well-balanced creative design that is filled with gorgeous colors. This skull tattoo is sure to attract lot of attention!
Morbid Skull Tattoo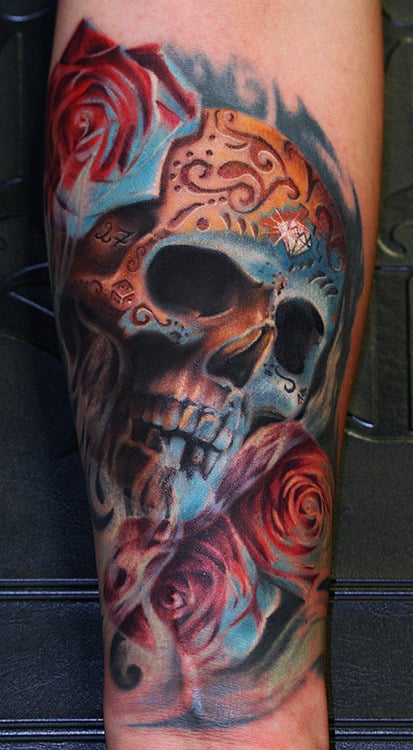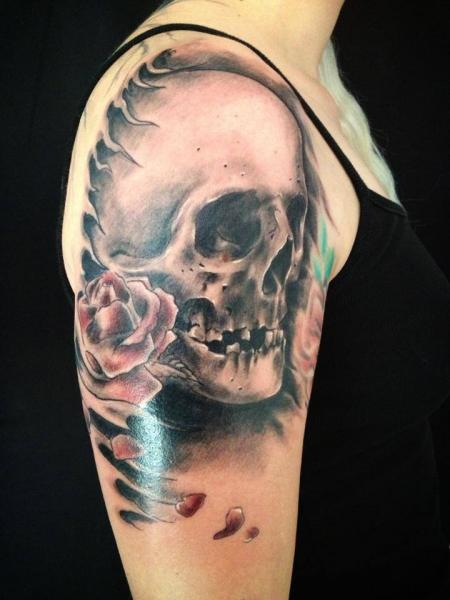 This tattoo says a lot about you and makes a statement whenever people see your hand. The design is such that the skull on the hand looks three dimensional. It is a very cool way to display your strength with confidence.
The Reaper Skull Tattoo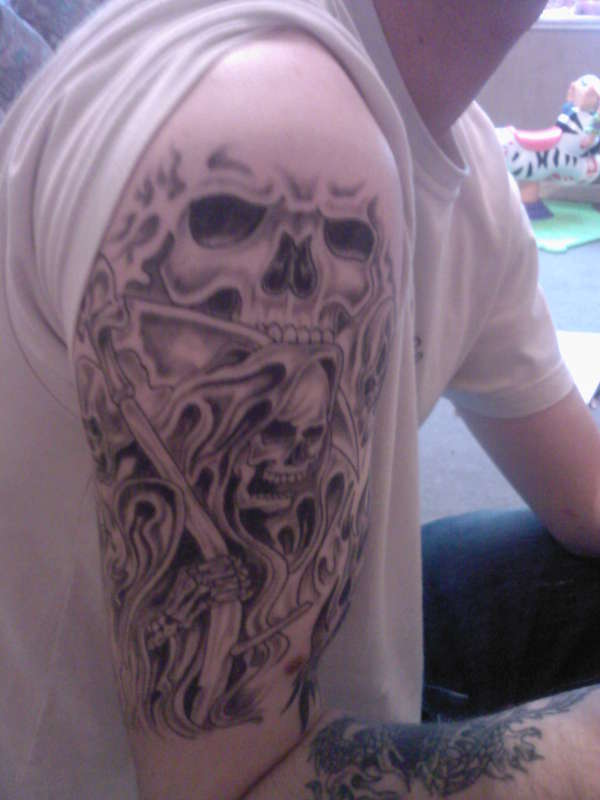 Celebrate death with attitude and style. This tattoo on your leg says you live on the edge and welcome danger. Perfect tattoo for the bikers that are out there pushing the boundaries!
Fearless Skull Tattoo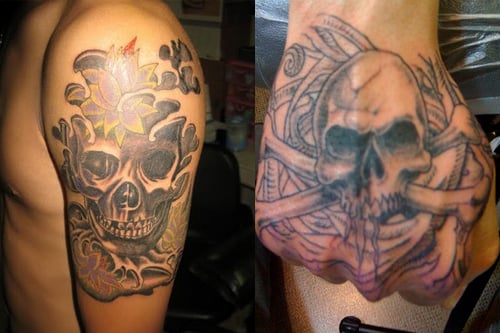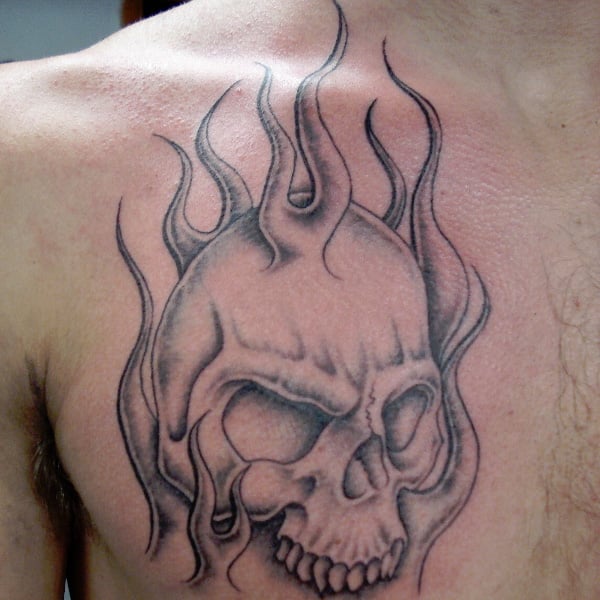 This tattoo is a perfect representation of your fearless nature. Celebrate this personality trait with this tattoo.
Bloody Joker Tattoo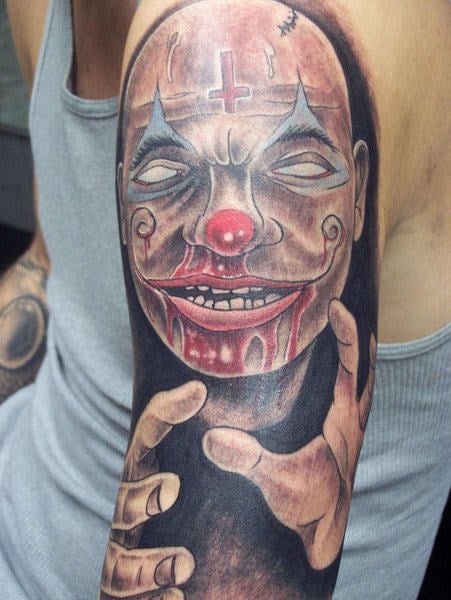 If you are a fan of the morbid arts, this bloody joker skull tattoo is a great design to get inked on your body. The bloody mouth and distant eyes leave a lot for the imagination.

Native American Chief Skull Tattoo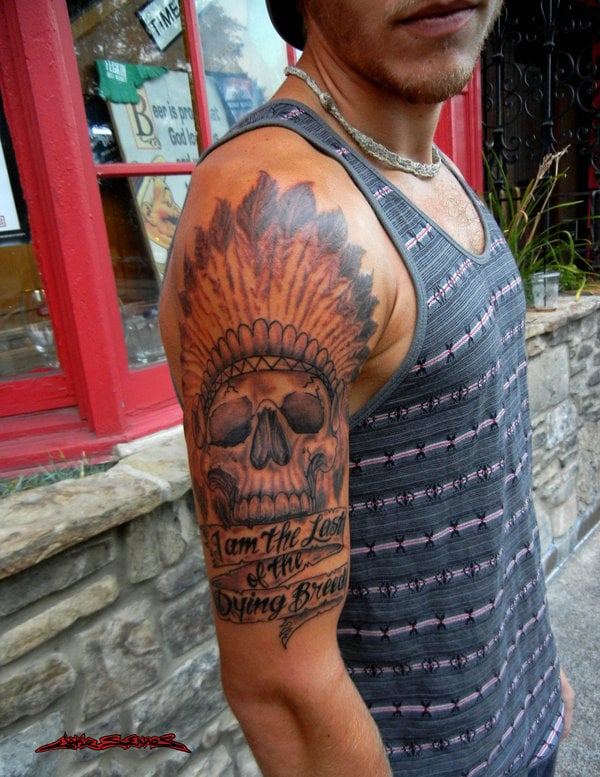 Celebrate Native American culture and make a statement about what is happening to these tribal people with this tattoo! It is a great way to draw attention to native and minority issues in America.
Black Rose
There is beauty in darkness and this fact is celebrated in this tattoo. Although it is a symbol of death, it can also be a celebration of life!
Black Beauty Skull Tattoo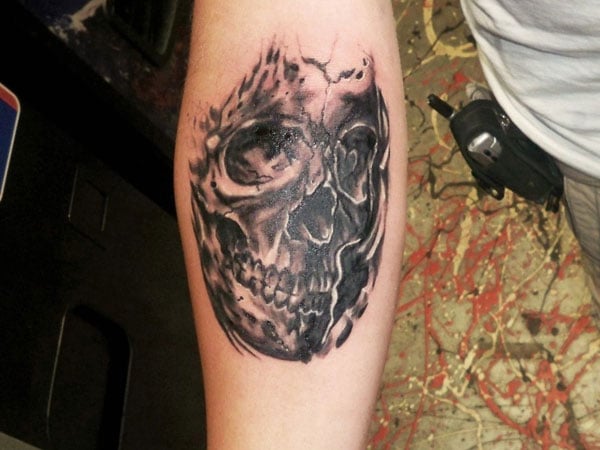 This inked black beauty symbolizes a change in lifestyle, giving up of a particular practice or outlook. This tattoo to is a wonderful symbol for breaking away from the past and starting anew.
Live Free or Die Skull Tattoo
This beautifully detailed artistic skull tattoo is ideal for all the motorcycle enthusiasts out there!
Gangster Skull Tattoo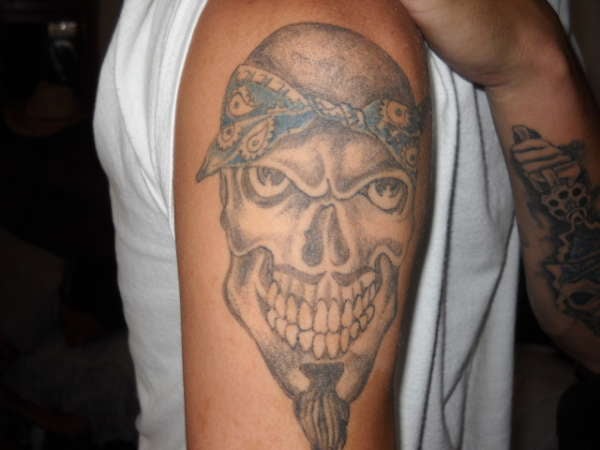 Bring out the hustler in you with a Scarface skull tattoo!
Bite the Dragon Skull Tattoo
This tattoo is proof that skulls go with everything. Whether it is roses or dragons, skulls look cool with everything!
Funeral Rose Skull Tattoo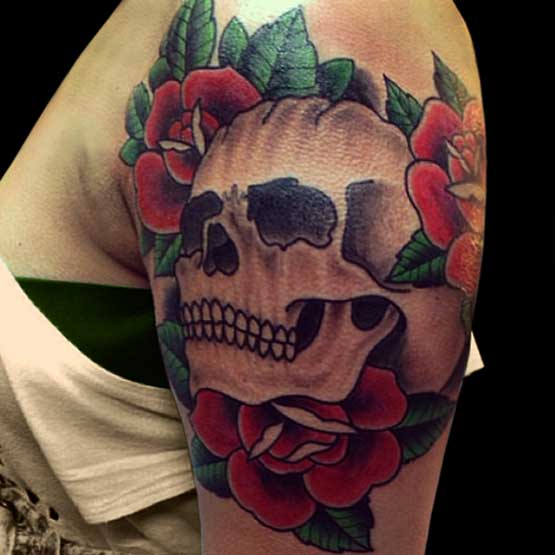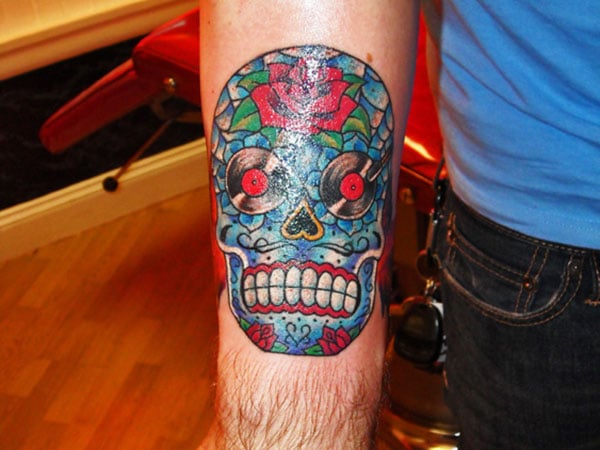 The red eyes grab your attention and evoke your imagination. This cool tattoo incorporates roses and a skull in an interesting manner.
Deadly Love Skull Tattoo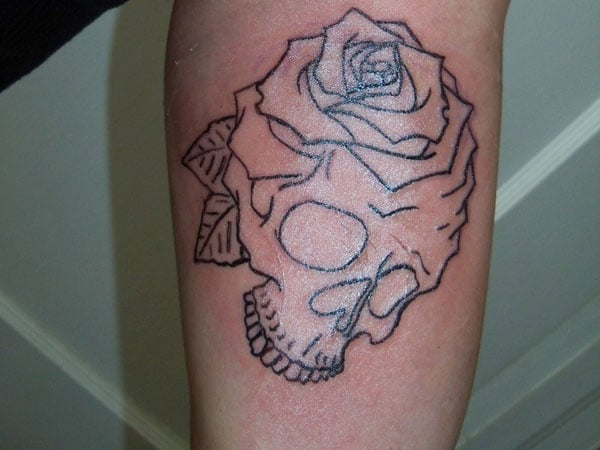 If you are not a fan of color and like something simple, the tattoo outlining a skull and a rose is perfect for you. So get creative and artistic, this tattoo beautifully merges two starkly opposite emotions into one amazing tattoo.
Your Skull on Acid Tattoo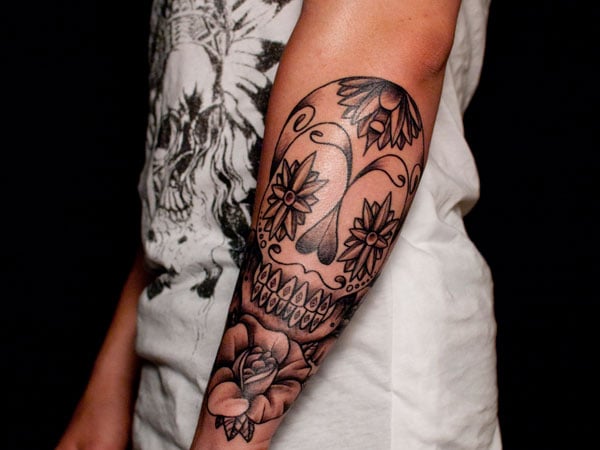 Have a black and white acid trip with this skull tattoo!

Dead Rocker Skull Tattoo
Celebrate the rock stars that have crossed over to the other side with this tattoo.
Smashing Skull Tattoo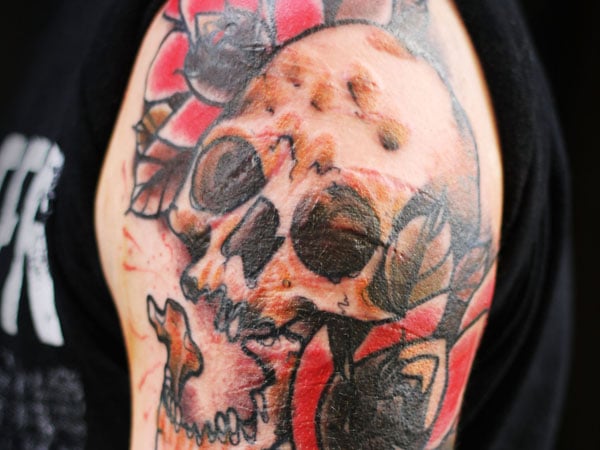 This tattoo symbolizes new beginnings with an image of a skull breaking apart representing a dying emotion or the end of a decaying relationship.
Tattered Pirate Flag Tattoo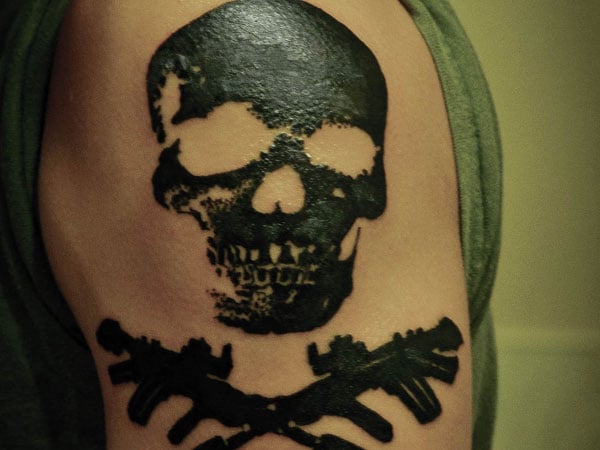 Bring out your dark side with this decaying flag of a skull and crossbones tattoo. The dark shades make it almost look like it was drawn with charcoal.
Easy Rider Skull Tattoo
For fans of history and Harley Davidsons, this is a tattoo that celebrates the life of an outlaw.
Badass Skull Tattoo